April 10, 2015
l
l
Last Updated April 10, 2015
The need for fresh air and light in buildings is something I'm often talking and writing about because it's central to creating a good home, but the theme is nothing new. I was reminded of this when I recently visited the King Edward VII Estate, near Midhurst, West Sussex. Here, the former sanatorium is being converted by City & Country to provide 162 apartments and houses within the Grade II and Grade II* listed buildings.
Built in 1901 as a specialist tuberculosis hospital, it was officially opened by King Edward VII on 6 June 1906 and heralded as 'one of the three finest buildings of the time'. The design for the hospital and its grounds was undertaken by an important triumvirate of the day: Charles Holden, Percy Adams and Gertrude Jekyll – a partnership linked to the Arts & Crafts Movement.

When the sanatorium was designed it was celebrated as a significant advancement in the treatment of the sick. Rest, relaxation, fresh air and light were seen as equally important to medical intervention in the treatment of patients, so the buildings and surroundings were designed to ensure that these benefits were fully available.
According to a piece published in The Times recording Edward VII's visit: "The main block is devoted entirely to the patients, each of whom has a separate room with a balcony on to which the bed can be wheeled if necessary, the upper storey being set back in order that the balcony for this floor should not interfere with the light and air of the rooms below".
The patients could also benefit from the 'therapeutic gardens' which form part of the 165 acre estate that now lies within the South Downs National Park. The grounds included 'Measured Walks' so the medical superintendent could prescribe "the right walk with proper gradient for each degree of lung power". The gardens were designed in 1906 by Gertrude Jekyll, the acclaimed horticulturalist. Importantly, she worked closely with Percy Adams to allow the integration of the architecture and gardens.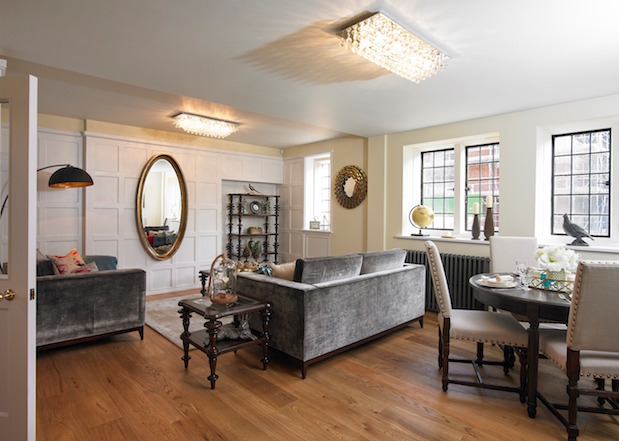 Much of what the original designers set out to achieve lives on in the homes and communal spaces that have been created. Later, poorly executed additions have been carefully stripped away to reintroduce the original feeling of space and light and, coupled with the detail and history of the place that has been retained, the conversion is an exemplar of how, through thoughtful design and attention to detail, old buildings can be adapted to provide good homes.